The Prince's Trust charity approached Hand Coded Studio with an exciting brief to build an online quiz to nationally promote their annual Youth Index Report 2018.
The Youth Index, sponsored by Macquarie, is a national survey that gauges young people's wellbeing across a range of areas from family life to physical health. Using our iterative digital process, we crafted a visually-beautiful and user-focused interactive quiz, for users to participate and discover a relevant case study.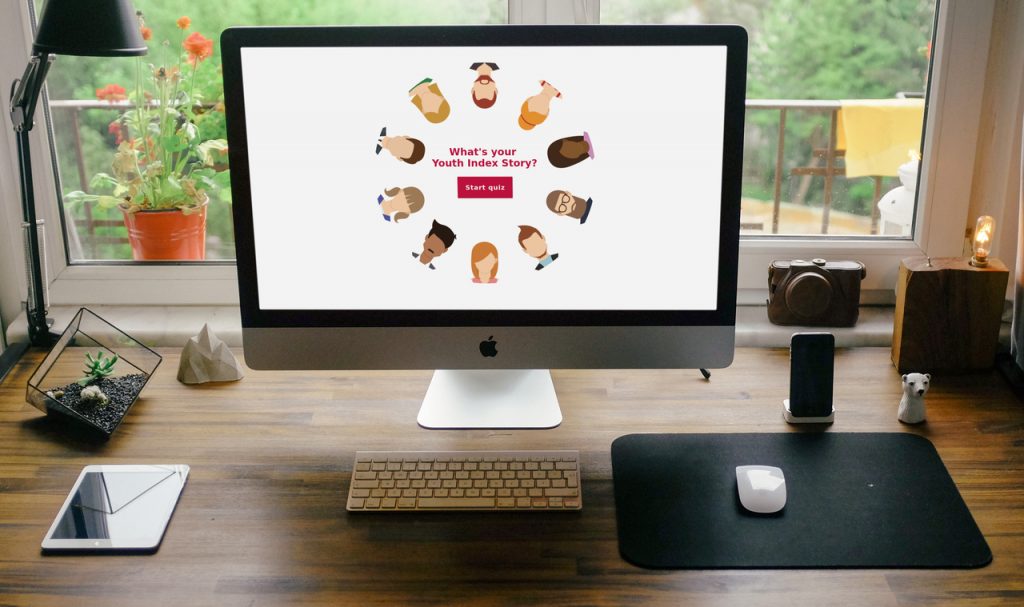 Design
The design brief for this project balanced an exciting, inviting design with the need to fit with the existing brand guidelines. The national charity has been running for over 40 years, improving the lives of disadvantaged young people in the UK. To date, The Trust has reached more than 825,000 young people with three in four achieving a positive outcome – moving into education, employment or training.
We delivered an inviting design that fitted well within the existing Prince's Trust website. After wireframes and mockups were designed & approved, we moved onto the development phase.
Development
Hand Coded Studio set about building a lean, fast, responsive website to match the approved designs. It was quickly decided that a "one page" website would avoid the user needing to wait for multiple page reloads, and avoid the need to store the progress on the client's machine. This encouraged a low page weight, and avoided any potential privacy concerns.
Additionally, subtle animations were added to improve the user experience, such as the shaking "Next" buttons. These animations are designed not only to help the user, but also provide delight and intrigue. The videos on question 4 (spoiler alert!) bring the page to life - and engage the younger video literate generation.
Deployment
With a national advertising campaign to drive traffic to the quiz and report, it was essential to select a flexible hosting solution. DigitalOcean provided affordable, scalable servers that could take the necessary load.
Forge helped setup a load balancer and associated web servers. We harnessed the power of Loader, with great success, to load test the servers and website.
Project lead, Rebecca Buchanan, from The Prince's Trust, provided this feedback:
We would highly recommend Hand Coded Studio. They've been superb on our campaign; not only did they follow the brief but they went above and beyond by offering useful suggestions and alternatives that made the project as successful as it was. Even with a tight deadline and delayed assets from our side, Hand Coded Studio were accommodating and we could trust them to deliver in time.